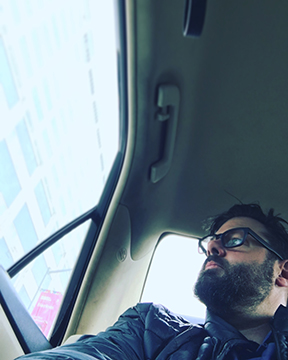 I think of myself as a New Yorker first, bi-coastal second, a traveler third. Prior to moving to New York in 2005, I lived in Nashville and Atlanta and love getting asked to work in those cities.
I am asked by clients to capture intimate and expressive portraits, many times in a matter of minutes and frequently working in conjunction with a TV or film shoot. In fact, many of my assignments start with the sentence "We only have 5 minutes with the subject... and they hate having their picture taken." My shortest shoot so far was 13 frames.
As a member of The Collective NY, a stage and film acting company, my continued study of acting and directing has strengthened my ability to work effectively with a wide range of subjects, from celebrities to real people. I took many of those principles and developed The Five-Minute Portrait, a workshop I taught at the Santa Fe Photographic Workshops and the PhotoExpo East, based upon my techniques and preparation for these challenging situations. With the growth of multi-media and social media advertising, I find myself frequently producing and shooting motion components in conjunction with still shoots.
I have been honored to have my photography in multiple years Graphis Photo Annual and Graphis Advertising Annual. In 2014, I co-created and directed the web series Stuck on A, highlighted by a cameo appearance from John Stamos. In 2016, I was the cinematographer of the short narrative Quick Fix (which enjoyed much festival success) and Love & Distortion: A Genuine Search for a Mostly Authentic America, a feature length documentary shot along Route 66 and directed by my wife, photographer and filmmaker Natalie Brasington, which premiered at the 2018 Madrid International Film Festival. I recently directed the narrative short, RocketSex, which is currently in festival submissions.
But above all, I enjoy using my skills to give back to others. I have been a participating photographer in the Art Start Portrait Project (co-founded by my wife Natalie) since it's inception 5 years ago. The ASPP gives both families living in the homeless shelter system and youth participants in Art Start's programming the chance to the the subject of a "celebrity" photo shoot, impacting how they see their own lives and futures. You can support them along with us at www.art-start.org
When not traveling or working on the other coast, I love to spend free time in New York City with my wife, Natalie, our daughter Abel and our wiggly pit bull Emma.